I talk about how September is our last month to ourselves.
Where we aren't pulled in all the directions, to do all the things, and be with all the people.
September is also our goodbye to summer and hello to fall, paddle boards are put away and boats get winterized while pumpkin spice and football peak around the corner to say hello. September is also my birthday month so I try to add in extra self-care during this time as well.
Self-care is important for everyone! What do you think of when you hear self-care? For some it's bubble baths and massages. Those can definitely be a part of self-care but it is so much more than that. It can be remembering to stretch in the morning, having that extra glass of water, getting that check-up that you have been putting off, or taking a day off of work to get back to you.
What self-care means to me is making myself a priority, above my job, my house, my dogs, and my husband.
They say you can't pour from an empty vessel and it is super cliché but so very true. Even if it means sitting in your car while in the driveway to listen to the end of your favorite song.
Doing something that is going to make you feel better about yourself and when you look back on that time you don't see it as wasted.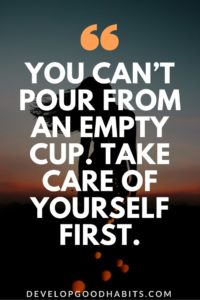 A couple of years ago I documented on social media what I was doing every day to help take care of myself and give myself a little extra love. That was stressful, along with exhausting. It took so much out of me that I didn't even acknowledge self-care last year. This year though I decided I was going to do it as self-care should be done. I was going to do what I needed to do for myself and talk about it after September was done.
Here is me talking about it….at the end of October. A whole 30 days after September ended.
I didn't make it a priority and it wasn't in the name of self-care. I let my October get away from me with getting a new puppy, our current dog needing surgery, opening a second chiropractic office, and trying to be the ultimate wife.
Self-care is a practice. 
I took September and just let it happen. I planned a couple of things but I decided to let it flow. You do need to take time for self-care and if that means scheduling yourself some "you time" then yes, please do BUT don't force it. You will not always get the desired effect of self-care if you force it upon yourself especially if it's going to cause extra stress in your life.
I was going to talk about what I failed at and what I conquered during the month of September. If you think about it though I didn't truly fail at anything. I had things that I wanted to do during September and some of those things didn't work out or fit in or get accomplished and that is okay!
I have a membership to Orange Theory and I haven't gone for a while. I haven't gone for so long I thought about cancelling my membership. I haven't and I won't though because I know how much working out helps me – both physically and mentally. I didn't get on the rower in September.
I wanted to go to a yoga studio. Yoga is a great way to relax and stretch after a long day. I find myself receiving more mental clarity when I go into a studio versus doing something from home. I didn't walk into a studio.
Increasing my water intake. This is something I strive to do throughout the year but I notice as the days get shorter and the weather gets cooler, I find myself reaching for a hot mug of something and not my refreshing water. Dehydration can happen especially when running a heater that is taking moisture out of the air. Increasing my water intake will always be on my list!
This doesn't mean I failed at any of these things. This means they stay on list to get marked off later.
I love working with my hands! Crafting or gardening are some of my favorite things to do. I can just loose myself in a project and nothing else matters. Succulents have been a big love for me this year. A BIG LOVE!! I am very lucky to have some crafty people in my life and to have found some on the internet (isn't Pinterest and Instagram great?). I raided any Dollar Tree I could find for all their faux succulents and started making wreaths. I also raided my neighborhood Lowes for clearance real succulents and thrift stores and Facebook marketplace for planters. It was so much fun designing and putting the arrangements together. BONUS – only one burnt finger!!!
I booked a Reiki session for myself on my birthday with Lauren Gonzales. It was so relaxing and much needed. I always feel great leaving her! I am not able to go often but sometimes it becomes a necessary self-care. Reiki is all about focusing on you! How is your body and mind dealing with the stress you are putting on it?
Tips & Tricks:
Don't force it! Most times it won't turn out like you want it to and it will put a sour taste in your mouth.
Let if flow! Allow yourself to see the opportunities for self-care instead of making it a calendar event. Have a lull in your day? Instead of pursuing social media, go for a walk, grab a book, go grab a hot drink from somewhere close by.
Be prepared! I know I just said let it flow BUT being prepared for the day/week will allow those opportunities to present themselves clearly and also allow yourself to book the self-care items that need to be booked…massages, reiki, gym/yoga class.
Don't think you failed if it didn't happen! This is probably the biggest tip. It rained and you couldn't go on your hike, that is okay life happens.
Life happens! Let's not forget that life will happen whether you planned for it or not. Yell "PLOT TWIST"!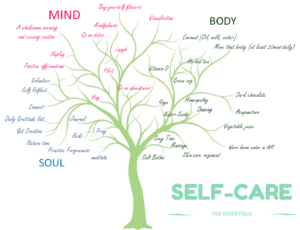 My September Self-Care list:
Get out in nature
Create a bucket list
Read
Enjoy a cup of something warm and simple
Unplug from TV and listen to music for one day instead
Connect with a friend
Go on a date with yourself
Create a gratitude list
Take a nap
Pamper Yourself
Make a list of goals
De-clutter your home
Cook an amazing meal for yourself
Do yoga
Unplug from social media
Go for a stroll
Create a budget
Write a self love list
Look over old pictures and memories
Go to bed extra early one night
Create a vision board
Commit to a full day of clean eating
Plant something
Wear your best outfit for a day
Donate or volunteer
Fall asleep to nature sounds
Bake Something
Get crafty
Re-watch your favorite movie
Diffuse your favorite essential oil or essential oil blend
Happy Self-Care Friends!